VITA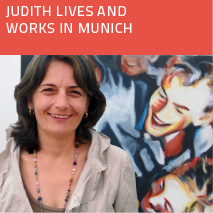 Born sometime in the '60s, I have critically dealt with space, form, color and material (ceramic, linoleum, fabric) since the early 80s. In 2007 I started painting with acrylics on canvas.
My paintings are in an expressively realistic style, charaterized by intense observations and full of color. Trivial moments of everyday life are condensed and simplified. My works convey my subjective perception and offer a projection screen for the viewer's own feelings and experiences.
In 2022 audience award at the art fair in Munich-Trudering
Member of the Association of professional Artists BBK München und Oberbayern and member of GEDOK Munich. Self-employed artists since 2009. My studios are in Munich and Schwangau.
My works are represented in private collections in Australia, Bulgaria, Germany, Great Britain, Italy and Switzerland.
Public purchases by
Landeskirchenamt der Evangelisch-Lutherischen Kirche in Bayern - Munich